Beaches
North Norfolk is famous for its long, white sandy beaches such as those at Holkham, Wells and Brancaster – the setting for pop videos, movies and lots of happy family days out. The wide beaches are washed by safe shallow waters and are perfect for sunbathers, swimmers and those looking for plenty of space to play.
The beach and surrounding marshes at Thornham provide a beautiful area for walking and forms part of the Norfolk Coast Path. Many well known spots can be located on route to the beach from the marshes along the 'bank' including the famous Thornham Stumps and Boat House.
Further along the coast, Mundesley is a 'Blue Flag' beach where children can paddle safely in tidal pools and the pebbly beach at Sheringham has also won a Blue Flag award for its cleanliness.As you drive along the North Norfolk coast road you are bound to discover your own favourite beach.Hunstanton and its Beach is famous for its striped cliffs and is otherwise known as Sunny Hunny. The beach and cliffs face west which means they capture the sunshine and are the perfect spots for viewing some spectacular sunsets.
The shallow beach runs for two miles along the coast to Brancaster and the tide can go out a mile, allowing rock pools to appear around the groynes.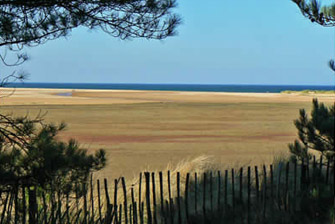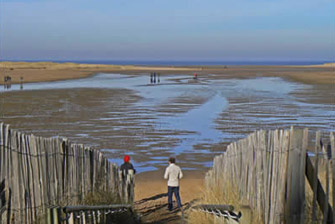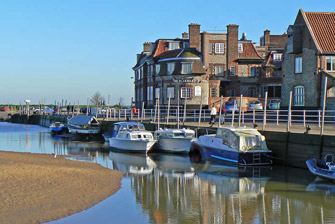 ---
Pubs and Restaurants
Norfolk has excellent pubs / restaurants all within a close distance to The Gables. These are:
The Lifeboat Inn, Thornham – The Lifeboat Inn on the North Norfolk Coast has been trading since the 16th Century – The Inn's original character has been carefully preserved throughout. This wonderful country pub contains several unique areas such as our very popular AA rosetted restaurant, the friendly and welcoming lounge with a lovely open fireplace, the bright and warming conservatory and our traditional, history soaked bar. www.lifeboatinnthornham.com/
The Orange Tree, Thornham – The Orange Tree is a contemporary dining pub, located in the centre of Thornham. It has recently been listed in the top 20 of all dining pubs in the UK by Eat Out Magazine, and is now recognised as one of the best places to eat in North Norfolk. The food is all from locally sourced produce and served in an al fresco dining area or alternatively in large garden area. There is also a children's playground, perfect for warm summer afternoons and evenings. www.theorangetreethornham.co.uk
The Chequers Inn, Thornham – This is the sister pub to The Lifeboat Inn which is just a short 5 minute walk away on route to the village. Inside The Chequers, you will find a traditional bar with a warm country feel, a vast open fire and low beamed ceiling. Enjoy a pint of real ale and a pub meal by the fire or try the a la carte menu with daily changing specials in the contemporary dining room. http://www.chequersinnthornham.com/
Shucks Drove Orchards, Thornham – This is a truly unique and new concept based in round semi-permanent tent with coned roof that provides a warm welcoming environment. The food is simple and locally sourced and reasonably priced. shucksattheyurt.co.uk/
Outside of Thornham we would also recommend:
The Hoste Arms, Burnham Market – The Hoste Arms is a 17th Century Coaching Inn situated on the village green in the village of Burnham Market or 'Chelsea-Next-the-Sea' as it is commonly known these days. The Hoste offers a fine dining experience along with the traditional pub element and areas to relax and enjoy afternoon tea. www.hostearms.co.uk
The White Horse, Brancaster Staithe – The White Horse is situated on the marshland at Brancaster Staithe, a designated area of outstanding natural beauty and the restaurant offer outstanding views over the Marshes. There is an extensive menu of local cuisine with seafood specialities and seasonal shellfish. www.whitehorsebrancaster.co.uk
---
Walks
The coastline of Norfolk, much of it an Area of Outstanding Natural Beauty, offers endless opportunities for people who like to get around using their own two feet.
Walking provides the perfect opportunity to view the Norfolk Coast from a different angle – getting closer to nature and escaping into a truly peaceful environment. It is also one of the best ways to view some of the local wildlife and outstanding flora and fauna that Norfolk has to offer.
Whether you prefer a gentle stroll around pretty villages and on coastal paths and beautiful beaches or are looking for a more challenging route, you will find no shortage of places to walk.
The Peddars Way is probably one of the most famous paths in the UK. It starts from Thetford and as it approaches the coast at Holme next the Sea it becomes the Norfolk Coast Path.
This walking route runs all the way to Cromer and includes several circular trips from the main route, including a 56 mile trail on the Weavers Way from Cromer to Great Yarmouth.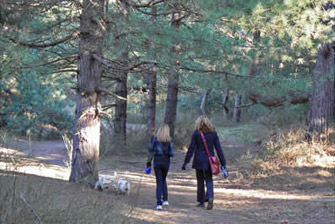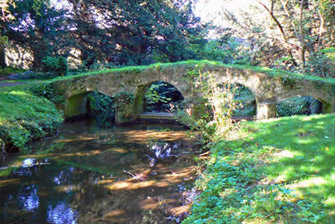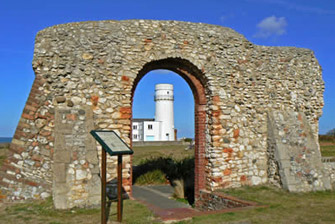 ---
Circular Walks
There are more than 15 circular walking routes on the Norfolk coast. These walks are about 4 to 6 miles long so needn't take up to much time and energy. The routes are well waymarked and maintained so you can enjoy gentle exploration of the area without fear of getting too lost or too tired.
---
Golf
---
Horse-Riding
 Norfolk offers excellent opportunities for horse riding for both beginners and experienced riders. Our friends at Mount Pleasant Horse Equestrian Centre will gladly take care of your needs. 
www.mountpleasantequestriancentre.co.uk
---
Towns and Villages
 North Norfolk has some wonderful and picturesque towns and villages which are perfect for a day out or as the base for your holiday in the county.
Cromer and Sheringham have been popular seaside resorts for almost 200 years and offer a relaxed pace of life for those looking for a really laid back holiday. Both towns have a Blue European Flag for their clean beaches and bathing waters.Blakeney, Cley and Wells are outstanding centres for wildlife and a paradise for birdwatchers. You can take a boat to Blakeney Point to see the seals or try out crabbing on the quayside.
Holt is a small Georgian town which is a great place for shopping or browsing around the many art and crafts galleries. You won't be able to resist the tempting cafes and speciality food shops.
Walsingham is known all over the world as a pilgrimage centre for people of many faiths. There are several religious buildings in the pretty village and the peaceful atmosphere makes Walsingham a perfect place for those who want to escape for a while from the hustle and bustle of the larger resorts.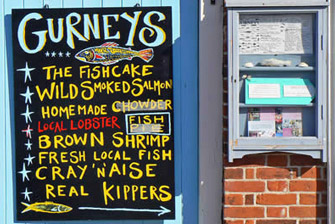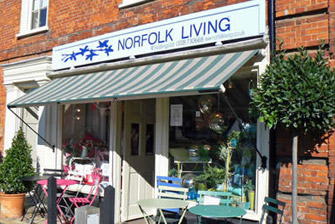 ---
Family Entertainment
 There's plenty to do on rainy days – Hunstanton is very much a family holiday destination and is also popular with older holidaymakers.
In summer, a colourful tractor train carries visitors the length of the seafront.
Beach chalets can be hired from the district council for a day and children can enjoy a donkey ride along the beach. Situated off the promenade are the fun fair & amusement arcades, shops and cafés. Toilets and public showers are available. As an alternative to the beach, there's the Princess Theatre, Oasis Pool & Leisure Centre, Sea Life Centre, a pitch and putt golf course, crazy golf, bowls, tennis and an indoor market. You can also take a boat to Seal Island, a strip of sand in the middle of the Wash to see if you can spot any seals Style & Shopping.For those seeking sophisticated exclusivity then the villages of North Norfolk, including Burnham Market, Blakeney and Cley-next-the sea, offer stylish shops and award winning restaurants.
Often referred to as Chelsea on Sea, North Norfolk has become a popular destination for the sophisticated London set and has many celebrity fans. In the numerous restaurants, cafes, boutiques and galleries you will find fine food, beautiful clothes, art and gifts to rival the best Covent Garden has to offer.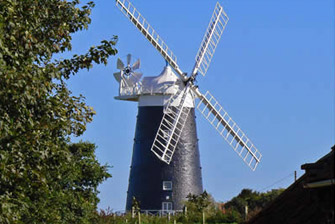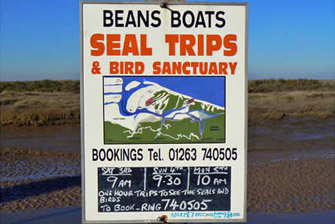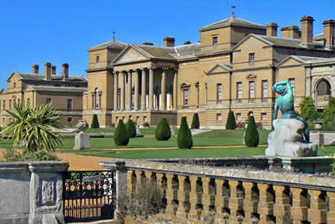 ---
Wildlife
North Norfolk forms part of the largest coastal nature reserve in England and Wales. Bitterns and terns, oyster catchers, avocets and marsh harriers are among the species which make North Norfolk a prime site for birdwatching.
The Norfolk Wildlife Trust's reserve at Holme Dunes is one of the north Norfolk coasts most attractive landscapes and the combination of mudflats, sand dunes, saltmarsh and reedbeds have an air of mysticism. It is an important birdwatching site where you can look for a huge variety of species including avocets, ringed plovers, redshanks, curlews and lapwings. Holme Dunes is another key site for winter wildfowl.At Salthouse Marshes, further along the coast, a shingle bank protects the coastal grazing marshes and salt water lagoons from the voracious appetite of the North Sea. Bird watchers can look out for black-tailed godwits, ruffs, redshanks and snow buntings as well as several thousand brent geese in the winter months.